Current projects: trackwork
The major infrastructure project being undertaken by the TMSV at Bylands is the construction of the depot fan for the Exhibition shed and the connecting track to the main line. This project is being pursued to ensure that new tramcar acquisitions can be kept under cover.
Progress to date (January 2005) has seen the following work items completed:
Construction and ballasting of 27 metres of track on each of C and D roads. This allowed trams Q 199, X2 680 and the Ballarat 23 to be craned into the Exhibition Shed, and resumption of the restoration program of Q 199.
Excavation works for the remainder of the depot fan.
Earthworks constructed for connecting line embankment.
Acquisition and placement of 135 sleepers for the depot fan.
Placement of rail and special work for remainder of depot fan.
Construction of 27 metres of track on B road.
The next tasks to be undertaken are:
Laying and spiking of rail for remainder of depot fan.
Acquisition and deployment of 150 sleepers for connecting track.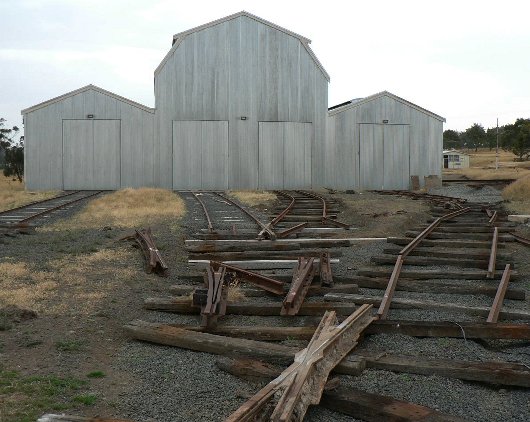 The following people have contributed their labour to this project so far: Russell Jones (Project Manager), William Fedor, Michael Fedor, Tania Ireton, Rebecca Edwards, Graham Jordan, Sam Mitchell, Paul Greely, Harry Twining, Bill Johnson. The TMSV would like to thank Puffing Billy for the loan of their hydraulic rail bender.
The revised target date for completion of the project is June 2006. If you would like to be part of the trackwork team on this project, please contact us.