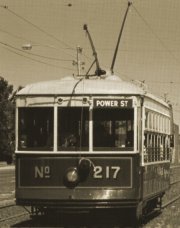 Credits and acknowledgements
We would like to thank all the people who generously contributed material and resources for our website, in particular:
TMSV members Russell Jones, Graham Jordan and Keith S. Kings
Graeme Turnbull
Valma Fell from the Burwood History Group
Colin Gillam, for scanning many of the images and other material used in this website
Andy Blume, for hosting this website
Most of the text, unless otherwise credited, was written by Russell Jones. Images, unless otherwise credited, are from the TMSV collection. Every precaution has been taken with the attribution of original sources, however any corrections should be forwarded to us.
Links to other sites are for information only and do not imply any endorsement of those sites or their content by the TMSV.
Our website was designed & developed by Noelle Jones.
This publication may not, in whole or in part, be lent, copied, photocopied, reproduced, translated or reduced to any electronic medium or machine readable form without the express written permission of the copyright holder.