Keeping time: Bundy clocks in the M&MTB
In the days before trams carried automatic vehicle monitoring transponders linked electronically back to central control centres, there was a need to track if trams were running to schedule — and to determine if their crews were completing their shifts. On the M&MTB tram system, this was achieved via the use of Bundy clocks.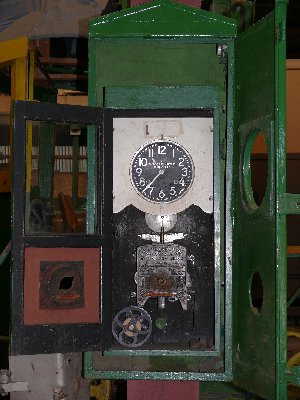 Bundy clock with opened case at the Exhibition Shed, Bylands Tramway Heritage Centre. Photograph courtesy Russell Jones.


The Bundy trademark became the generic name for time recording clocks, much as did Hoover for vacuum cleaners and Biro for ballpoint pens. William Bundy, a jeweller residing in Auburn New York, USA invented the first time recording clock in 1888. The following year, the Bundy Manufacturing Company was formed to produce time recording clocks, and mass production began. The Bundy company was merged in 1902 into the International Time Recording Company (ITR). In 1911, ITR merged with the Tabulating Machine Company and the Computing Scale Company in Endicott New York to form the Computing Tabulating Recording Corporation — the company that would later become better known as International Business Machines, or IBM. The time recording business was retained by IBM until it was sold in 1958 to Simplex.
| | |
| --- | --- |
| | Detail of the TMSV's Bundy clock. Photograph courtesy Russell Jones. |
The TMSV is fortunate to have an example of an M&MTB time recording clock on display in the Exhibition Shed. Manufactured by the Cincinnati Time Recorder Company of Cincinnati Ohio, USA [1], it is a typical example of a time recording clock used in Melbourne, complete with the M&MTB tramway green casing. Clocks manufactured by other companies were also used by the M&MTB, but it is likely that this particular time recorder clock was used on the Port Melbourne to Bulleen omnibus route.
Each tram driver was issued a Bundy key which was embossed with the depot letter and the run number [2] for his shift. On arriving at a timing point, usually at an end of section tram stop, the driver would hop down from the tram, and insert the Bundy key into the appropriate slot and give it a quick twist. This would force a paper tape against the embossed key and the time recording equipment, printing the time and run number on the tape.
It was the inspector's job to wind up the Bundy clock and remove the tape for transport back to the depot where it could be checked to ensure that trams were running to time, and that drivers were completing all their trips to schedule.
As the M&MTB was a classic example of a vertically integrated organisation, all maintenance of its Bundy clocks was performed in-house by two staff in a small workshop located in Head Office at 616 Little Collins Street, Melbourne. This required a few spare Bundy clocks to be held in store, so that they could be rotated into service when performing scheduled maintenance. From the 1960s, non-standard Bundy clocks such as the example held by the TMSV were retired and replaced with a single model, leaving only one type in service.
Most of the Bundy clocks have now been removed from the Melbourne tramway system, but there are still one or two in place [3] — a memory of a work practice now made obsolete by the Information Revolution. A Bundy clock was restored in 2006 to commemorate one hundred years of electric trams in Melbourne, and can be seen in the office at Essendon Depot, the oldest operating tram depot in Melbourne.
Bibliography
Bundy Arts & Victorian Museum — Timeline of the Bundy Manufacturing Company
IBM Archives — Bundy Manufacturing Company
IBM Eye — IBM Acquisition History
Footnotes
[1] The Cincinnati Time Recorder Company was founded in 1896 and existed as an independent company until it was acquired in 1991 by the Amano Corporation of Japan. It now operates as Amano Cincinnati Inc.
[2] Run numbers were displayed on each tram with a small yellow plate held against the driver's windscreen, showing the depot letter and run number in black writing - for example, run K 52 belonged to Kew Depot. Depot letters were as follows:
A — Hanna Street (South Melbourne)
B — Brunswick
C — Coburg
D — Doncaster (buses only)
E — Essendon
F — Footscray (trams & buses)
GH — Glenhuntly
H — Hawthorn
K — Kew
M — Malvern
N — North Fitzroy (trams & buses)
P — Preston
V — Camberwell
Southbank Depot was never allocated a depot letter, as it was opened after the introduction of Automatic Vehicle Monitoring.
[3] A Bundy clock was still in place in 2007 at the Arts Centre stop in St Kilda Road, located above the Alexandra Avenue underpass.