Feature articles



End Of The Line - Leaving The Way You Wish To Go
In the days before trams carried automatic vehicle monitoring transponders linked electronically back to central control centres, there was a need to track if trams were running to schedule — and to determine if their crews were completing their shifts. On the M&MTB tram system, this was achieved via the use of Bundy clocks.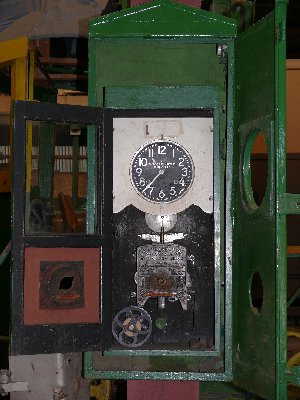 Bundy clock with opened case at the Exhibition Shed, Bylands Tramway Heritage Centre. Photograph courtesy Russell Jones.

The Bundy trademark became the generic name for time recording clocks, much as did Hoover for vacuum cleaners and Biro for ballpoint pens. William Bundy, a jeweller residing in Auburn New York, USA invented the first time recording clock in 1888. The following year, the Bundy Manufacturing Company was formed to produce time recording clocks, and mass production began. The Bundy company was merged in 1902 into the International Time Recording Company (ITR). In 1911, ITR merged with the Tabulating Machine Company and the Computing Scale Company in Endicott New York to form the Computing Tabulating Recording Corporation — the company that would later become better known as International Business Machines, or IBM. The time recording business was retained by IBM until it was sold in 1958 to Simplex.
| | |
| --- | --- |
| | Detail of the TMSV's Bundy clock. Photograph courtesy Russell Jones. |
The TMSV is fortunate to have an example of an M&MTB time recording clock on display in the Exhibition Shed. Manufactured by the Cincinnati Time Recorder Company of Cincinnati Ohio, USA [1], it is a typical example of a time recording clock used in Melbourne, complete with the M&MTB tramway green casing. Clocks manufactured by other companies were also used by the M&MTB, but it is likely that this particular time recorder clock was used on the Port Melbourne to Bulleen omnibus route.

Dealing with the death of a loved one is never easy. In addition to emotional shock, loved ones are often forced to handle funeral planning - a process that can be overwhelming at an already difficult time. Although it might seem morbid, making arrangements with a funeral director prior to death can lighten the load for any family. With that in mind, here are six things you can do ahead of time to make things easier for your loved ones after your passing.

1. Prepare For Burial Or Cremation

Decide whether you want to be buried or cremated after death. If you prefer the latter, it might be a good idea to call a crematory to check their availability. If you prefer the former, and most people do, it is important to contact a few local funeral homes and ask about their availability. In particular, you should find out how much time they need to arrange services at their establishment.

2. Find A Funeral Director

An experienced funeral director can be a godsend during a difficult time. From filing certificates, permits, and authorizations to arranging the actual funeral service, a good director does his utmost to ensure that everything goes according to plan. If you have never arranged a service for a family member before, the best way to find a good director is to simply ask around.

3. Choose A Casket Or Cremation Container

People make bad decisions when under emotional stress. That's the main reason folks overspend on funeral planning. Selecting a casket or cremation container in advance will help you stay on budget, which should reduce the risk of family members fighting over shared expenses.

4. Pick A Headstone Or Marker

If you want to be buried, selecting a headstone and having it inscribed will take time. When this process is completed after death, odds are your loved ones will be charged extra fees for expedited service. It may also be harder to find the perfect headstone at the last minute. It is for these reasons that we suggest shopping for a stone or marker early.

5. Plan Transportation

Although most of the cars in the procession will be driven by attendees, the family of the deceased must make arrangements for transportation of the body to the cemetery or final resting place. In most cases, the funeral home will provide this service in their total package. However, it may be a good idea to call ahead to make certain hearses are included.

6. Select Music And Songs

Though it may provide comfort with the passage of time, hearing a loved one's favorite music shortly after they die may be too much for survivors. We recommend that you pick out a few top tunes in advance and include them in a mixtape that can be played at a ceremony, service, or reception at the family home.

Completing these simple tasks in advance should save your loved ones time, money, and emotion while funeral planning.

To learn more about funeral planning, Mississippi residents can visit http://www.bradfordokeefe.com/plan-ahead/pre-planning-checklist.

Article Source: http://EzineArticles.com/expert/Andrew_Stratton/83489

Bibliography
Bundy Arts & Victorian Museum — Timeline of the Bundy Manufacturing Company
IBM Archives — Bundy Manufacturing Company
IBM Eye — IBM Acquisition History
Footnotes
[1] The Cincinnati Time Recorder Company was founded in 1896 and existed as an independent company until it was acquired in 1991 by the Amano Corporation of Japan. It now operates as Amano Cincinnati Inc.
[2] Run numbers were displayed on each tram with a small yellow plate held against the driver's windscreen, showing the depot letter and run number in black writing - for example, run K 52 belonged to Kew Depot. Depot letters were as follows:
A — Hanna Street (South Melbourne)
B — Brunswick
C — Coburg
D — Doncaster (buses only)
E — Essendon
F — Footscray (trams & buses)
GH — Glenhuntly
H — Hawthorn
K — Kew
M — Malvern
N — North Fitzroy (trams & buses)
P — Preston
V — Camberwell
Southbank Depot was never allocated a depot letter, as it was opened after the introduction of Automatic Vehicle Monitoring.
[3] A Bundy clock was still in place in 2007 at the Arts Centre stop in St Kilda Road, located above the Alexandra Avenue underpass.