TMSV news
Twilight trams a sizzler!
The scorching heat of the Australian summer had no impact on the Trams in the Twilight evening on Saturday 17 February 2007. Late afternoon temperatures reached 38°C while our staff were preparing trams for their one operational night of the year. The evening remained hot and clear, unlike last year's spectacular thunderstorms, but all remarked on the parched appearance of the countryside.
A solid crowd of dedicated enthusiasts enjoyed the opportunity to ride and photograph our tramcars in the pastel shades of a summer sunset fading into the dark of night, and all partook in the camaraderie of the sausage sizzle. Tramcars used included Melbourne cars 612, 667 and 795, Ballarat 36 and Adelaide 373 — the heat ensured that all windows were open to catch the warm northerly breeze. Our visitors were impressed by the workshops' progress on restoration of cars 199 and 680, as well as the main line track upgrades recently completed.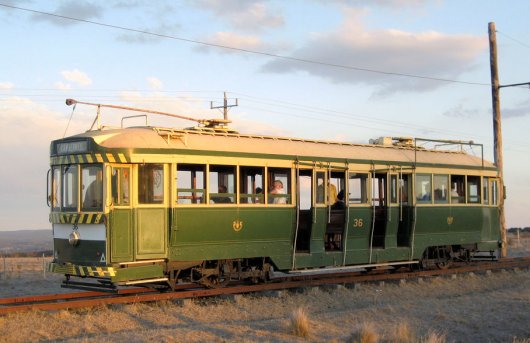 This year, our running staff found it easier to change trolley poles over at the northern terminus — pitch black in the evening — as we remembered to issue them with torches to assist putting the pole on the wire (not a problem for us during our normal operating hours).
Our happy visitors told us they had a great time, and are looking forward to coming back for their next twilight visit.